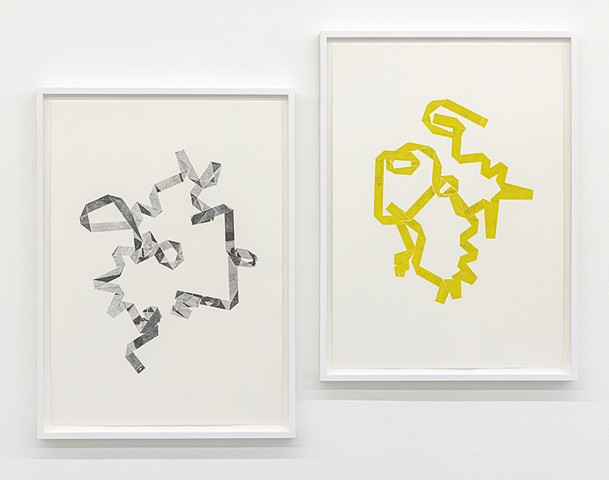 Under Pressure series
Monoprints of measuring tapes
Ink on paper
30 1/4 x 22 1/4"
MKG127, Toronto, Canada



Kristiina Lahde's solo exhibition Vice Versa was at MKG127 in Toronto, Canada, from September to October, 2023.
Double Vision, a collaborative exhibition with Adam David Brown is at NAMARA Project Space, Toronto, from September 30 to November 18, 2023. Curated by Danna Heitner, with an exhibition essay by Jayne Wilkinson.
Kristiina Lahde's interview with Los Angeles curator Claudia Pretelin is featured in Instruments of Memory. Kristiina Lahde's 2020-21 exhibition Follow a Curved Line to Completion and You Make a Circle at MKG127, Toronto, Canada, can been seen in this video walkthrough on the MKG127 YouTube channel. In 2021 Ruth Jones' feature article on Kristiina Lahde was published in ESSE Magazine.
In 2022-2023 Kristiina Lahde participated in an analog printmaking residency at Smokestack Studio with her collaborator Adam David Brown. They created a series of screen prints that used their own fingerprints as the starting point. Please see their interview and process video of their residency at Smokestack.
Kristiina Lahde is an artist from Toronto Canada. Her conceptual practice focuses on material investigation and process. She received her BFA from the Nova Scotia College of Art and Design in 1999. In 2019 she exhibited In the Fold at PLAY/GROUND, Medina, NY and Extraordinary Measures at the University of Waterloo Art Gallery. In 2018 her solo exhibitions included In and Out of Order at OBORO in Montreal, Out of Line at MKG127, Toronto, Unfolding at the Art Gallery of Hamilton. She has also exhibited in Toronto at the Koffler Gallery, The Power Plant, and at La Biennale de Montréal. Her works are held in several private and public collections including the Canada Council Art Bank, and she was long listed for the 2013 Sobey Art Award.
Kristiina Lahde is represented by MKG127, Toronto.
Extraordinary Measures, University of Waterloo Art Gallery, 2019. Curated by Ivan Jurakic.
UNFOLDING, The Art Gallery of Hamilton, 2018-2019.